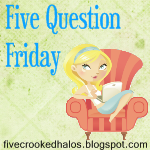 First Five Question Friday......
I kept seeing this an thought I would jump in today. Link up and give it a try!!!!!
1. Worst trouble you ever got into as a teenager?
My dad and my Algebra teacher had decided that I needed tutoring in Algebra and planned for me to attend tutoring after class at least one day a week. I was not the only one. There were ALOT of us that didn't GET it.
I chose on one particular day after school to NOT go and go and hang out with some guy friends. Of course when I got home it was the typical questions....How was it? Lots of homework? Did you work hard? Of course I said "It was fine, not a lot of homework and it's always hard" You can imagine the color draining out of my face when my Dad looked at me as only he can and said..."Mr. Butts (that is his real name) called and said he missed you today after school" DEAD WHERE I STOOD!!!!!
2. Are you a morning person or a night person?
I am both. I can hop up in the morning, have a cup of coffee and I am ready to go. I can be a night person if I am helping with a delivery, watching a great show or movie or even hanging out with friends. A little strange probably.....
3. Are you a one-handed or a two-handed Texter?
By all means 2 handed. Takes WAY to long to do it one handed.
4. Democrat, Republican, or Independent..or maybe even Green Party (whatever that is).
Republican. Never heard of Green Party but trying to do more "green" at home.
5. Are you a pet person?
Love DOGS!!!! Not so much a cat person unless they are old, fat and just lay around. Have had birds. I enjoy them, just messy. Had a lizard at one point and they are pretty cool but a lot of work with crickets, lighting and all.
Laboring With You,
Doula Mama Pam