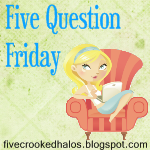 It's Time once again.....
1. What are you most afraid of?
Heights and driving in the ice/snow. Heights even though I have flown to India, Nepal, Ukraine, London, Germany but taking of and landing still get me. Please don't ask me to go to the top of a building or climb more than 3-4 feet off the ground. Driving in snow and ice because the ONLY car accident I have ever been in was when I was driving with my 1 year old in the car. NEVER want to repeat that again.
2. Do you use a flat iron or curling iron?
My hair is naturally curly and I have a "reverse bob", I think, and it requires straight hair. Flat Iron EVERY MORNING!!!!!!

3. Hands-free or phone to the ear?
Phone to the ear. Hands free drives me crazy.

4. Do you have a matching bedroom set?
SO NOT!!!!!!! Very mixed up
5. Do you believe in the paranormal? No, but I do believe that there is a spiritual world that we can not see. One of angels and demons in a constant war. Piercing the Darkness changed the way I think. EXCELLENT BOOK!!!!!! It will change your prayer life for sure.


This was a blast!!!!! Jump in on the fun!!!!!
Laboring With You,
Doula Mama Pam