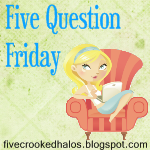 1. Have you ever hit an animal with your vehicle?
Yes, Thankfully it was already dead in the road. Yet, running over what felt like a huge boulder in the road, was such a disgusting thought. I literally thought I was going to throw-up. It was a dark night driving with 2 children in the car and the oldest says "Mom, watch out there's a......" BUMP BUMP!!!! dead opossum in the road. It was just gross!!!! I can still hear it. I have also been hit by an animal. Yes, driving down 29 here in Greensboro. Out of the corner of my eye there is a deer coming full speed. I just knew I was going to slam right into it. Traffic behind me, in front of me, next to me. There was no where to go. The thing runs and slams into the side of my car and then turns around and runs back to where he came from. I pulled off and tried to get a grip on what just happened. Look in my mirror and there is pick-up with 2 guys. Stop, get out of the truck and go across the field to get the above mentioned deer for dinner I guess. All pretty weird. Try explaining to the insurance company claims person....."The deer HIT ME! I DID NOT hit the deer!!!" So, yes, I hit one and one hit me.
2. When you see a string on your clothes do you pull it off or cut if off?
Typically I cut it off. One pull and your entire shirt, your pants, underwear, or sock can come unraveled and fall to the floor.

3. Did you have your own room or share a room when you were young?
No, I always had my own room. Very glad about that.

4. Would you rather wear the same thing for the rest of your life or eat the same thing for the rest of your life?
Rather wear the same thing. If I had a choice.......Pajama pants and my husbands T-shirt, and furry socks.

5. What was your favorite TV show as a child?
I would have to say......... Probably "Looney Tunes" on Saturday morning. Buggs, Elmer Fudd, The Rooster (can't remember his name) It was my favorite. They just don't do cartoons like that anymore.
So, it's your turn. Jump on to Five Question Friday. I just love it!!!!!!
Laboring With You,
Doula Mama Pam