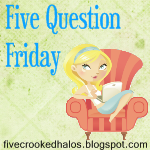 1. What's your guilty pleasure?
Ordering a 2,000 calorie dessert after dinner at my favorite resturant and NOT HAVING TO SHARE IT!!!!! I always share it because I think I would be physically sick trying to eat the entire thing........What is it you ask????? Hot Chocolate Molten Cake at Chili's. Something about that warm cake, cold ice cream and all of that "Hot Chocolate Lava" in the middle......YUUMMYYY!!!!!

2. What is your favorite TV series?
It would have to be The Biggest Loser. I'm not sure if you consider that a series or no but I think I have watched every season since it started coming on. I have Jillians Book, but I don't have any video's. Someday, I'll be a trainer......hopefully one like her....the "In your face" kind.

3. Can you speak any foreign languages?
I would love to but sadly, I can not. Took 2 years of spanish 20+ years ago and remember a few things but not enough to speak it.

4. How many pairs of shoes do you own?
I have no clue. WAY TO MANY!!!!!!! Funny thing is that 95% of them are black. Can you tell what I color I wear the most?????

5. What's your favorite kind of M&M's...peanut, almond, straight up regular, etc.?
I would have to say PEANUT!!!!! There is something about salty and chocolate that just go together!!!!!!! MMMMMMM
Jump on it and answer the questions!!!!!! Way to fun!!!!!!!
Laboring With You,
Doula Mama Pam