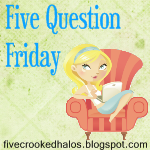 1. Have you ever had a celeb sighting?
I have never seen anyone. I even lived outside of San Francisco for a couple of years and never saw anyone. I'm not sure what I would do if I did. Hopefully not embarrass myself.
2. What temperature do you keep your house?
We typically keep it around 70 in the winter and summer is usually around 75 I think. I am one that is willing to have all doors and window open and ceiling fans going until I can't stand it before I will turn it on. Fresh air is just awesome!!!!!!
3. Do you notice dust at other peoples homes?
I am usually to busy trying to relax at someones house over inspecting if they have dust or not.
4. What's the worst job you ever had?
I worked in a glass shop in high school. Not just any shop but one that had
2 of the biggest cases
ever seen full of little tiny blown-glass figures. They were pretty to look at. What I hated was that it was usually given to me to
DUST IT!!!!!
That meant getting on a shaky ladder and taking them all off the shelf, dust it and then put them all back.
5 WHOLE SHELVES!!!!! in EACH CASE!!!!!
There was no such thing a Swiffer Duster!!!!!! It was the most nerve racking experience!!!!! Oh, yeah,
If you broke it, You bought it!!!!!

5. What is your most sentimental possession?
I actually have a couple of things. I have these "Garden Fairies" that my Grandmother had. They are just little fairy looking things sitting on a flower. They are stamped on the bottom "Made in Occupied Japan". They maybe worth a lot of money but they are a prize possession for me. I would go into her totally white living room, also known as the "No-No" room and snag them off the table and run like a mad child away from my parents. My other possession is my Grandmother's ring. It's a solitaire diamond.
BEAUTIFUL!!!!
I would sit and hold her hand and twirl it.
Jump in and Link up!!!!!!!
Laboring With You,
Doula Mama Pam